(
OLD POST
. Just adding mine to Jimmyb's review.)
Unbeknown to me, Santa's little helper was busy making me some prototype custom seat covers for my TJ prior to Xmas.
And what can I say, but "Dingo Seat Covers" are great . Unlike the previous covers I have owned I no longer get sweaty whilst driving (especially in certain places ), sitting on crappy clammy nylon covers is a thing of the past.
New TWO-TONE Coloured Canvas Seat Covers from DINGO.
One of the major concerns "Dingo" had when I requested coloured covers was the that coloured canvas colours may run into each other if they got wet or that the colours may stain the owners clothing. After some time was spent testing the coloured canvas the conclusion was that they didn't do any of the above. Meaning these wonderful new two tone seat covers are now going to be made available to the public.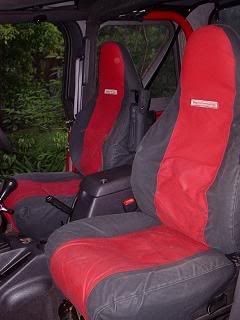 Another addition is the Extra Pockets I chose, these make carrying the usual bits and pieces easier. Such as recovery gears, the drivers side rear pocket holds my snatch strap, tree saver and a couple of D shackles, plus a little room left over.
A smaller pocket was added the the rear of passenger seat, the smaller pocket was recommended by "Dingo" to make it easier for back seat passengers to get in the vehicle. Good thinking eh?
I wanted some pockets that were easily accessible to store my torch and hand held UHF or maybe a mobile phone. So "Dingo" put these pockets on for me.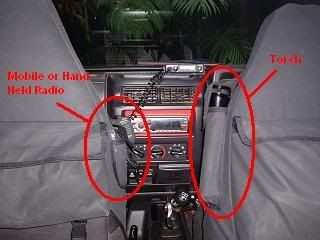 One other pocket I wanted was a Stash pocket to tuck smaller items out of the way, such as maybe my wallet, keys or smokes etc.
So a small pocket was attached on the front lower section of the my drivers seat, when closed securely with the velcro (unlike below for demo purposes ) it is almost invisible. Making it and its contents less obvious.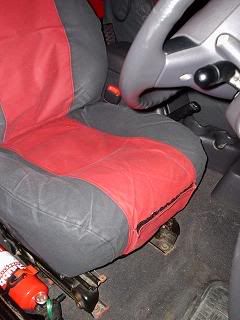 These Seat Cover are great! I very happy with them (and they've got red on them, red= ), they are guaranteed not to wrinkle under yer bum creating uncomfy pressure points, they are as water resistant as canvas can be (very), they are not slippery but you also don't have to peel yourself out of them and did I mention that they are colour coded RED
So if you are are in the market for a new set of seat covers then I strongly recommend these.
A huge thanks goes out to Maria for being so patient with me.
_________________
Have a nice day.